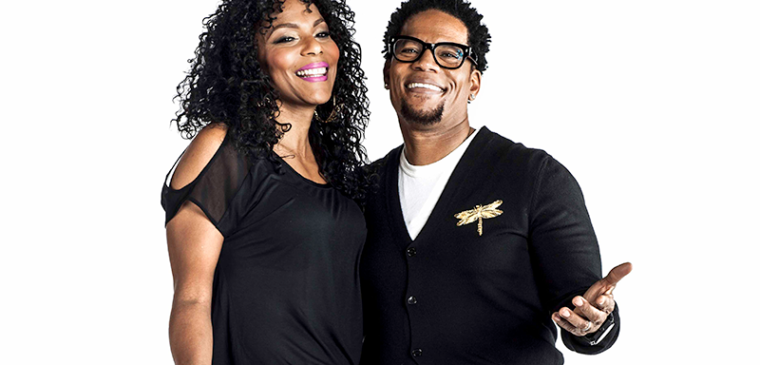 Dec / 04
D.L. Hughley Elevates His Comedy Into Ratings Success – and a New Multi-Year Contract for His Popular Syndicated Afternoon Radio Show
New Affiliates, Ratings Success and New Customized Programming Continue to Elevate D.L.'s Radio Show
DALLAS – December 4, 2017 – D.L. Hughley, one of America's brightest comedians of our time, is elevating his humor and thought-provoking, socially conscious program into ratings success, leading to a new multi-year agreement for his nationally syndicated radio show, Reach Media announced today.
In making the announcement, D.L. stated, "I'm excited that my radio show continues to grow on a national basis, but the honesty and interaction with my audience make it the 'biggest local and personal show in radio.' Extending the relationship with Reach Media gives me the opportunity to address what's important to people I care about in an entertaining, but meaningful way – making a difference in their day!"
Urban One's CEO of Radio One's stations and Reach Media, David Kantor added, "As one of the most important voices in radio, D.L. is totally in tune with what the African-American listener wants addressed ­­– and to be said. He's established himself as the voice, with a humorous edge, but conviction and sensibility to stimulate a dialogue."
The broadcast and digital company noted that Hughley, who established himself as a leading voice in the community, has dominated the afternoon drive-time slot with double-digit rating shares taking key affiliate radio stations to #1 or dominant positions in the market for his target listener demographic with The D.L. Hughley Show. The show recently added affiliates in the following markets:
Dallas: KZMJ-FM – Majic 94.5
Indianapolis: WTLC-FM – Indy's R&B Leader
Cincinnati: WOSL-FM – 100.3, R&B and Old School
The show offers listeners entertainment, information and a unique approach to addressing topics important to the African-American community. Fast, funny and relevant, D.L. aims to "make people laugh a lot…and think too!" The show, which Hughley co-hosts with Jasmine Sanders, broadcasts weekdays from 3p–7p ET and has over 60 affiliates.
Recently, the show began offering a content ONLY version, where affiliates can play their own music to specifically target their audience. Stations can get all the laughs and thought-provoking insights, while customizing the music for any format, giving more listeners the opportunity to get the exclusive compelling experience presented by Hughley and his cast. The Hughley Hustle Home Mix has become one of the most popular elements of the show to further hold the audience – with an extended mix of old school and new school music that represents the essence of the show… "bringin' it home" during drivetime!
One of the most popular and highly recognized standup comedians on the road today, Hughley has also become a familiar face and voice on television, film and radio. He's known for being astute and politically savvy in true comedian style.
About REACH Media, Inc.
REACH Media, Inc. is the leading cross-platform media company with networks and syndicated talent REACHing a predominately adult African-American audience of over 20 million on a monthly basis through broadcasts, digital media, events and initiatives. The company syndicates highly popular radio shows including The Tom Joyner Morning Show, The Rickey Smiley Morning Show, The Russ Parr Morning Show, Get Up! Mornings with Erica Campbell, The D. L. Hughley Show, The Willie Moore Jr. Show, The Ed Lover Show and The Nightly Spirit with Darlene McCoy. Reaching 1-in-2 African American adults weekly, REACH Media, Inc. provides a strong digital presence throughBlackAmericaWeb.com, websites for the syndicated talent, online streaming and mobile apps. Integrated marketing opportunities related to family, education, health and inspirational initiatives are accented by the Company's commitment to the community. REACH Media Inc., founded in 2003 by Tom Joyner and CEO David Kantor, is an Urban One company.