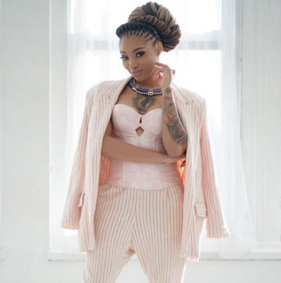 Aug / 08
Radio One Charlotte Welcomes 'Dutchess' To The Airwaves
(Charlotte, NC… August 7, 2017) – Beginning August 13, 2017, listeners in Charlotte will get to experience Dutchess on 92.7 FM The Block live on Sundays from noon to 4pm.
Dutchess , a star on the VH1 series, "Black Ink Crew" hails from Lincolnton, NC and is a cum laude graduate from North Carolina A&T State University.  She moved to New York City in 2010, where she immediately became a highly esteemed member of the ink community.  After creating a name for herself and following her dreams, Dutchess finally opened her own Tattoo Boutique, "Pretty-N-Ink" in Charlotte.  And now, she's expanding her talents to the radio airwaves!
Mary K, Program Director for Radio One Charlotte says, "I am thrilled to have Dutchess join the 92.7 The Block team!  She has a great energy, contagious spirit, generous heart and immeasurable talents "
Doug James, Vice President and General Manager of Radio One Charlotte added, "Dutchess is an exceptional artist and media personality.  We are very excited that she is bringing her talents to our fantastic line-up on 92.7 The Block."
Dutchess joins a dynamic show line-up that includes The Rickey Smiley Morning Show and Chewy  in afternoon drive.   In addition to hearing Dutchess on Sunday afternoons on 92.7 FM, it can be streamed online at www.927theblock.com.
About Radio One, Inc.
Radio One, Inc. (radio-one.com), together with its subsidiaries, is a diversified media company that primarily targets African-American and urban consumers. It is one of the nation's largest radio broadcasting companies, currently owning and/or operating 55 stations in 15 urban markets in the United States. Through its controlling interest in Reach Media, Inc. (blackamericaweb.com), the Company also operates syndicated programming including the Tom Joyner Morning Show, the Russ Parr Morning Show, the Get Up With Erica Show, the Rickey Smiley Morning Show, the DL Hughley Show, Bishop T.D. Jakes' Empowering Moments, and the Reverend Al Sharpton Show.  Beyond its core radio broadcasting franchise, Radio One owns Interactive One (interactiveone.com), the fastest growing and definitive digital resource for Black and Latin Americans, reaching millions each month through social content, news, information, and entertainment. Interactive One operates a number of branded sites including News One (news), The Urban Daily (men), Hello Beautiful (women), Global Grind (Millennials) and social networking websites such as BlackPlanet and MiGente. The Company also owns TV One, LLC (tvone.tv), a cable/satellite network programming serving more than 57 million households, offering a broad range of real-life and entertainment-focused original programming, classic series, movies and music designed to entertain, inform and inspire a diverse audience of adult Black viewers. Additionally, One Solution combines the dynamics of the Radio One's holdings to provide brands with an integrated and effectively engaging marketing approach that reaches 82% of Black Americans throughout the country.