Radio One Announces Two Promotions From Within: Indianapolis & Columbus Markets Both WIN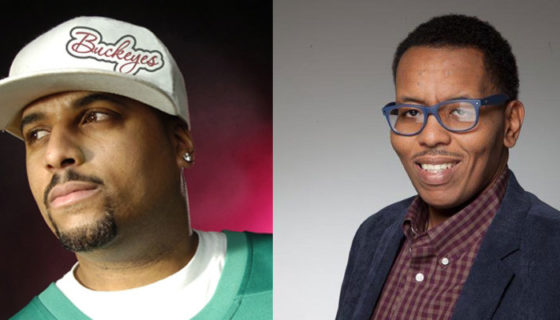 (Silver Spring, MD…August 16, 2017) – Radio One announces two promotions from within its Programming Department. Bill Black, the current Operations Manager for Cleveland and Cincinnati picks up Columbus, giving him Ohio regional programming oversight of the urban powerhouse markets.  And Theodore 'Big Bink' moves to Indianapolis as Operations Manager.
Proving it is not only the largest urban multi-platform company targeting Black Americans and urban enthusiasts, but it has some of the brightest and most experienced programmers in the game, Radio One doesn't have to go far to find talent.
Bill Black will be adding to his role as Operations Manager the Columbus cluster: Power 107.5 FM, Magic 95.5 FM, Joy 107.1 FM, and Boom 106.3 FM.
Bill's vast experience and understanding of the market will help propel the Ohio region. Bill has had a stellar career in broadcasting. Beyond his midwest experience, he has worked at five radio stations in the southeast region including WXVI, WZHT, WXFE, WHXT, and WHTA, where he helped to launch the careers of notable artist like T.I., Gucci Mane, Jeezy, 2Chainz, Ludacris and more.
Eddie Harrell, Regional Vice President of Radio One's Ohio region says, "I've had the pleasure of working with Bill and have found him to be the total package.  He's a creative mind with strong leadership skills, industry knowledge and passion for music, entertainment and community.  I'm excited to expand his role to Columbus and now work with him on our powerhouse three-city region."
Theodore 'Big Bink' Turner is moving from Radio One Columbus to Indianapolis as Operations Manager for 106.7 FM WTLC, AM 1310  The Light, Hot 96.3 FM and Boom 102.9 FM. DJ Big Bink has had a growing career in broadcasting for over 15 years. A graduate of Langston University, where he earned a Bachelor of Arts degree in Broadcast Journalism, Big Bink was known as "the" college DJ and showed early signs for this love of music and skillful mixing. Before joining Radio One Columbus, where he served as the market Operation Manager and Power 107.5 FM afternoon personality, DJ Big Bink worked at Radio One Dallas as the midday host and Music Director for The Beat 97.9 FM. Over the years, Big Bink has done countless remixes with national recording artists including Tyrese, E-40, Baby Bash, Slim Thug, Lyfe Jennings and more.
Regional Vice President Deon Levingston includes, "We searched across the country to find the right person for our OM position and I'm happy we found someone in our company with the perfect background and fit to lead our stations to the next level. Bink has proven himself in two Radio One markets to be a great programmer and talent. I'm excited about what he'll do here in Indy!"
About Urban One, Inc.
Urban One, Inc. (urban1.com), formerly known as Radio One, Inc., together with its subsidiaries, is the largest diversified media company that primarily targets Black Americans and urban consumers in the United States. The Company owns TV One, LLC (tvone.tv), a television network serving more than 59 million households, offering a broad range of original programming, classic series and movies designed to entertain, inform and inspire a diverse audience of adult Black viewers. As one of the nation's largest radio broadcasting companies, Urban One currently owns and/or operates 57 broadcast stations in 15 urban markets in the United States. Through its controlling interest in Reach Media, Inc. (blackamericaweb.com), the Company also operates syndicated programming including the Tom Joyner Morning Show, Russ Parr Morning Show, Rickey Smiley Morning Show, Get up Morning! with Erica Campbell, DL Hughley Show, Ed Lover Show, Willie Moore Jr Show, Nightly Spirit with Darlene McCoy Reverend Al Sharpton Show. In addition to its radio and television broadcast assets, Urban One owns iOne Digital (ionedigital.com), the largest digital resource for urban enthusiasts and Blacks, reaching millions each month through its Cassius and BHM Digital platforms. Additionally, One Solution, the Company's branded content agency and studio combines the dynamics of the Urban One's holdings to provide brands with an integrated and effectively engaging marketing approach that reaches 82% of Black Americans throughout the country.
Contact:
Yashima White AziLove
media@Urban1.com
301.429.3239